Feet of Clay
David Caudle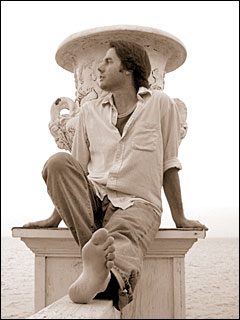 A cabin at a lake. A summer day. The present. VAUGHAN relaxes with a beer. CLAY enters and stops short, stomping mud off of his boots.
VAUGHAN
Get the car out?
CLAY
Yep. And got myself in. Thought I was gonna have to leave my boots in that muck.
VAUGHAN
Wanna leave 'em outside the door, there, buddy? I know this ain't the Taj Mahal, but we do try to keep some semblance of cleanliness about the place. I mean, it's Diane. She's a freak. I try to tell her, it's a frigging cabin in the woods, for Chrissake --
CLAY
No problem. Sorry.
CLAY removes his boots and drops them by the door.
VAUGHAN
Girls get off okay?
CLAY
Yep. Said they'd be back in an hour.
VAUGHAN
Don't believe it. They say they're just getting supplies, but once they get into the village, shopping will happen.
CLAY
I know Grace won't be doing any.
VAUGHAN
That won't stop Diane. She'll do the old "one for me, one for you" routine.
CLAY
Grace won't take handouts.
VAUGHAN
Gifts, Clay. Just gifts.
CLAY
You guys are already doing enough. It's embarrassing. We've only known y'all, what, six months?
VAUGHAN
We're happy to help. We've been through hard times, and people helped us. Take off your socks, too. They're soaked.
CLAY
They're okay.
VAUGHAN
You're leaving wet footprints. I can see them.
CLAY
Sorry.
VAUGHAN
No, it's just... can't be good, walking around in wet socks. Just drop them there.
CLAY takes off his socks.
CLAY
Want another beer, Vaughan?
VAUGHAN
Sure, if you're getting one.
CLAY
Nah, not right now, but I'll get you one.
VAUGHAN
You don't have to wait on me. Come on, just relax. You and Grace need to learn to accept hospitality graciously. Sit down. Take a load off. Put your feet up.
CLAY sits and puts his feet up. VAUGHAN grabs a hand towel and drops it over CLAY's feet.
VAUGHAN
You better dry them off.
CLAY
Yeah, thanks.
CLAY quickly wipes his feet, then sets the towel aside.
VAUGHAN
Them's big dogs you got there, buddy. Here. You missed a spot.
VAUGHAN wipes CLAY's feet briefly. It tickles CLAY. HE chuckles. THEY both turn away nervously.
VAUGHAN
Come on, you gotta have a beer. I'll get us both one. Lemme grab these. Diane, you know.
VAUGHAN takes the towel and CLAY's socks, and goes for the beer. Behind CLAY's back, VAUGHAN presses the towel to his face, then each sock, one at a time. HE hangs them lovingly over a counter and returns with two beers.
CLAY
Thanks, man.
VAUGHAN
What are they, eleven? Twelve?
CLAY
Who?
VAUGHAN
Your feet. What size are they?
CLAY
Eleven.
VAUGHAN
They feeling better now?
CLAY
Who?
VAUGHAN
What are we talking about? Your size elevens.
CLAY
Oh. Yeah, they're dry.
VAUGHAN
They look damn strong, too. Bet you could cling to palm trees with them suckers.
CLAY
Can we talk about something else?
VAUGHAN
Oh. Sure. Uh... so you got any interviews lined up, for when we get back to town?
CLAY
I'd rather talk about my feet.
VAUGHAN
Oh, God, so would I! I can't keep quiet anymore, buddy. You got the hottest damn feet I've ever seen!
CLAY
Come again?
VAUGHAN
I'd love to. Again and again. All over your big meaty feet!
CLAY
Is that a joke?
VAUGHAN
Lord help me, no.
CLAY
You're gay, man?
VAUGHAN
No! No friggin' way!
CLAY
Does Diane know?
VAUGHAN
I'm not gay, I swear. Not even bi.
CLAY
Yeah, right!
VAUGHAN
It's just the feet. I don't know why, but I get turned on by men's feet. Women's feet don't do it for me. Only men's. But believe me when I tell you. I'm straight from the ankle up!
CLAY
When the girls get back, Grace and I are out of here.
VAUGHAN
No! Wait, hear me out, buddy! I know you're strapped for cash. Maybe we can make a deal.
CLAY
Hell, I'm walking down that mountain.
VAUGHAN
You'll never get there the way the roads are. Don't make me sound like I'm holding you hostage. I'm not. I would never force anything on you. But I do think you should hear me out.
CLAY
What do you want me to do? Be some kind of male foot whore?
VAUGHAN
Just let me touch them a little.
CLAY
No fucking way! I ain't gonna be no foot whore!
VAUGHAN
But you have to have sex to be a whore. You wouldn't be having sex.
CLAY
Oh no?
VAUGHAN
I mean, I might want to, you know... but you could look the other way. Read a magazine. There would be so incredibly little involvement on your part.
CLAY
Don't talk about this anymore. It's not happening.
VAUGHAN
I could solve all your problems by just writing a check!
CLAY
Even if... no, I won't cheat on Grace.
VAUGHAN
But you won't be having sex! I mean, if a blow job isn't even sex...
CLAY
Why do you want to do this?
VAUGHAN
Not want. Need. It's that bad. I've always felt this need to bond with strong men's feet. They just, I mean, they're sturdy, yet so sensitive. The heel, the arch, they curve like a woman. The veins, so close to the surface. They pulsate like Diane's neck, or wrist. But they're so familiar. A woman's mystery can be intimidating. And sometimes that's sexy, but sometimes --
CLAY
Okay, that's more than I need to know. You are sick. You're a sick individual. Not another word.
VAUGHAN takes out his checkbook.
VAUGHAN
How much do you want?
CLAY
I said --
VAUGHAN
I know, but I figure you'll want something to keep you quiet. How much to keep you from telling everybody you see what just happened here?
CLAY
Put it away. I won't tell anybody.
VAUGHAN
Not even Grace?
CLAY
No way. Let's just drink our beers and... listen to the crickets until the girls come back.
VAUGHAN
That's so decent of you. Noble, even. Just what I expected from those feet.
CLAY
Maybe I'm an idiot. How many other guys have you had to pay off?
VAUGHAN
You're the first. I swear. What I told you just now, I never told a soul before in my life. Now I wish I could take it all back. Oh, Christ, I feel so naked! You're gonna tell Grace, I just know it! How can you not? Oh, Christ, I should just kill myself!
CLAY
Calm down, I said I won't say anything!
VAUGHAN
So... you feel okay with having a secret between us? That doesn't feel like cheating?
CLAY
It's a secret about something that didn't happen, so it doesn't count. Besides, I don't want her to know this about you. She thinks you're sliced bread.
VAUGHAN
You care a lot about her.
CLAY
Of course I do.
VAUGHAN
Think of all you could do for her. I mean...
CLAY
Don't start this up again.
VAUGHAN
I was just thinking --
CLAY
Look, live and let live, okay? I got a brother who dresses up. He's still my brother, whatever, you know? If you say you're not like that, I believe you, but whatever this is... I want NO PART of it.
VAUGHAN
How 'bout if I just take some pictures?
CLAY
No!
VAUGHAN
You won't even have to be in the hemisphere when I look at them!
CLAY
What part of 'no part' don't you understand?
VAUGHAN
Say you worked in a hardware store.
CLAY
I wish.
VAUGHAN
Say you sold somebody some rope and then found out they used it to tie up and rob a sweet little old lady. Would you think you had some part in the robbery?
CLAY
Of course not.
VAUGHAN
It's the same thing!
CLAY
No. Because I would know what you were gonna do with the pictures. That's what they'd be for.
VAUGHAN
Look at all the celebrities that do centerfolds! Full frontal! You think they think they're fucking the whole country? I'm not even asking full frontal. Just those size elevens.
CLAY
Stop calling them that!
VAUGHAN
Just a few snapshots. How unbelievably easy it would be. And you could stop Grace from getting worry lines early.
CLAY
Just stop, will ya? I may be poorer than dirt, but I've got my pride! It's about all I have got! If I profit in any way from this, I'm part of it.
VAUGHAN
Well, then, I owe you a few cigarettes by now.
CLAY
What's that supposed to mean?
VAUGHAN
You've already profited. 'Member where we met? By the pool at the rec center? I have my own swimming pool. Why should I have to use the rec center? Ever ask yourself that?
CLAY
You said your pool had a shock treatment or something.
VAUGHAN
No. I was looking for the perfect pair of feet. I'd been looking a long time, Clay. Then, coming up from the deep end, I heard the ladder start to clang against the side. You know how you hear things under water. I heard that sound, and I looked, and there appeared the exact feet I always dreamed of. One at a time. Down the metal steps. So I struck up a conversation. And everything I've done, everything Diane and I have given you and Grace, the old furniture, the Prime Rib, the free insurance, this vacation. Your feet already earned these in quiet moments.
CLAY
That's all in your mind. I can't control your mind.
VAUGHAN
Pictures in my mind.
CLAY
But they're not real. They're not concrete. You can't touch 'em.
VAUGHAN grabs the socks off the counter.
VAUGHAN
What about these?
HE rubs the socks against his crotch. CLAY lunges for them.
CLAY
Give those to me! Cut it out! I'll kick your ass!
VAUGHAN
Barefoot?
CLAY
Shut up! Just shut the fuck up!
CLAY grabs the socks away.
VAUGHAN
Thanks for not hitting me. I thought you were gonna hit me.
CLAY
I ought to. Vaughan, I tried to be understanding. But you don't give a damn about my feelings, so fuck you. And I'm not gonna make any promises about keeping quiet, either.
VAUGHAN
Then you can't have as much pride as you say you have. All you have are these arbitrary standards. In this world, Clay, it's rare the person who can have both money and standards. Think about it this way. Money works on its own. But standards without pride. What good do they do? I know you must hate me for pushing this issue, but I'm doing it for both of us, really. You can't forget what Grace told us last night. That since you lost your job, you two stopped trying to have a kid...
VAUGHAN turns away, fearing HE's gone too far. HE finds busywork straightening up the place. CLAY goes to the door and looks out. HE holds out his hand, testing for rain. HE closes the door, slowly returns to his chair and sits. THEY are both silent for a long time. Suddenly, CLAY props his feet up again.
CLAY
What do you got, a Polaroid?
VAUGHAN drops what HE's doing. The men regard each other a moment.
VAUGHAN
Minolta.
CLAY
I don't want any more details, you got me? Don't come back thanking me for a night of bliss on the fucking Riviera.
VAUGHAN
Not a word, I swear.
VAUGHAN gets out a camera. CLAY picks up a copy of COUNTRY LIVING magazine, and starts drinking his beer. With grave solemnity, VAUGHAN circles CLAY's feet, taking shot after shot.
VAUGHAN
(Singing)
The first time.... Ever I saw your feet...
HE hums the rest to himself as lights fade.
| | | | |
| --- | --- | --- | --- |
| | | David Caudle is an award-winning playwright and artist from Miami, Florida. His play, Hell's Cuisinart premiered at the Samuel Beckett Theatre in New York in 1997 to strong reviews, and was subsequently produced in Miami and Los Angeles. His paintings have been exhibited in galleries along the east coast, as well as in Madonna's video, "Nothing Really Matters." Pieces from his current series of grisaille paintings depicting the gay pride parade were exhibited at the Ambrosino Gallery in Miami, and at the GLBT Community Center in New York City. | |

Go To: Issue 9 or Lodestar Quarterly home page